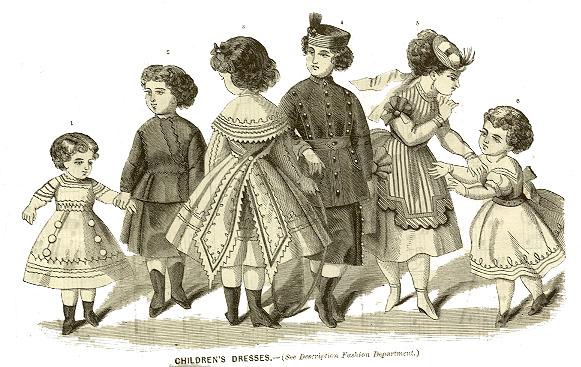 Children's Dresses.
Fig. 1.-Dress for a child of three years old, of white pique', gored and trimmed with three rows of braid sewed on plain, with a narrow braiding pattern above. Three large buttons are placed on the side seams.
Fig. 2.-Little boy's suit of Spanish linen, made with a skirt and blouse. The belt, neck, etc., is cut in points and bound with black braid.
Fig. 3.-Dress for a girl of six years old, of blue Chambray braided with white; low corsage, with Marie Antoinette fichu braided to match the skirt; the long ends are fastened in the back, and form a sash.
Fig. 4.-Suit for a boy of eight years old, of light casimere made Garibaldi pants and blouse. They are trimmed with bands of silk, with a row of buttons through the centre.
Fig. 5.-Dress for a girl of five years. The underskirt is of plain blue silk; the over-skirt and waist of blue and white striped silk; the bottom of skirt is cut in scallops, headed by a band of blue silk. A large bow of blue silk is fastened at each side. Hat of white chip, trimmed with blue velvet.
Fig. 6.-Dress for a child of four years old, of pink cambric, braided with white. Sash of the same, braided to match.