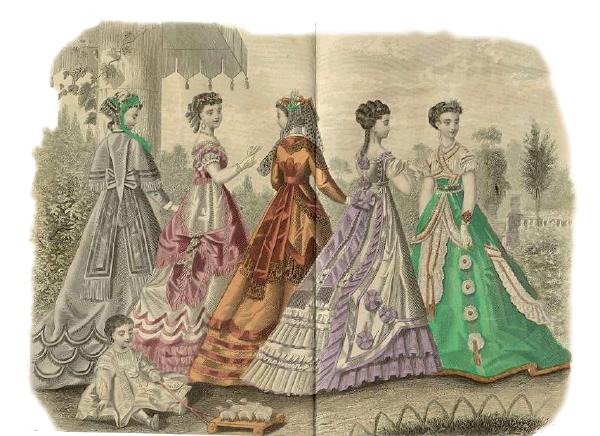 Description of Steel Fashion Plate
Fig. 1.-Dress of pearl-colored silk. The skirt is trimmed with bands of satin put on in three rows of scallops edged with fringe, and is finished with a tassel; it is trimmed with bands of satin and fringe, and is finished at the back by a large bow, with sash ends. Bonnet of white crape, trimmed with green velvet and black lace.
Fig. 2.-Dinner-dress of white silk, with an underskirt of pink silk, trimmed with four puffs. The upper skirt is cut in scallops bound with pink silk, and two bands of the silk put on above them. Low corsage, with bertha of silk and lace. A broad sash is fastened to the belt in front, trimmed with a fringe; it is brought around to the side and fastened by roses and leaves, giving the appearance of a third skirt. Hair arranged in curls, with roses and leaves.
Fig. 3.-Flame-colored silk dress, trimmed with satin of a darker shade, and lace the same color as the dress. The polonaise is tight-fitting, trimmed with wide lace, headed by a broad satin band. Three sash ends of satin, of graduated lengths, are fastened on the waist, and extend down on the skirt. Bonnet of white silk, trimmed with the same as the dress; black lace and bird at one side.
Fig. 4.-Dress of white grenadine. The skirt has two flounces of lilac silk in front, one of which is graduated in width, and extends up the sides ornamenting the waist; the flounces are headed by two bias bands of silk. The back of the skirt is trimmed with three flounces of white grenadine, bound with lilac silk, and put on with a puff at the top. Sash of lilac silk, with three long fringed ends. There are rosettes at the top and bottom of waist, upon the top of sash ends, and on the sides of the skirt. Low corsage, with puffed sleeves.
Fig. 5.-Dress of Metternich green grenadine. The skirt is trimmed with white lace, headed by a straw cord; lace rosettes, with straw ornaments in the centre. A heavy straw cord edges the bottom of the skirt. Low corsage, fastened over on one side, with a deep basque, trimmed with puffs edged with a narrow straw cord. Sash of green silk, fastened by loops at the side. Under waist of tulle, with plaits, and trimmed with a puff and fine straw cord. Short puffed sleeves of tulle.
Fig. 6.-Dress for a little girl, of white Nainsook with plaited yoke, and trimmed with insertion band going down the skirt and extending around the bottom. A row of buttons extend up the front.