Upcoming Projects!
(and wishful thinking)
Projects originally here that I actually completed!
---
Projects for Sometime in the Future...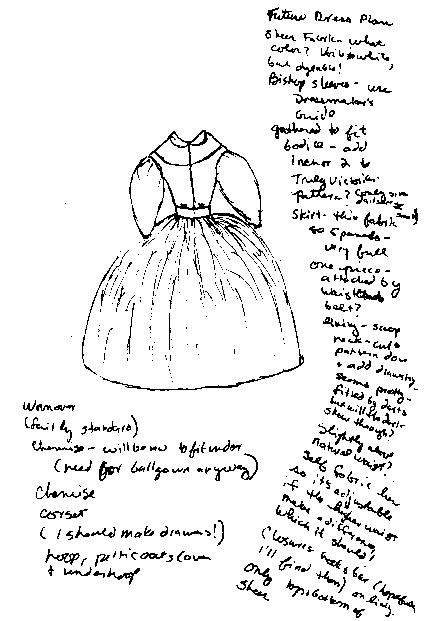 I made this sketch of a future project, a sheer Civil War era dress during a student teacher seminar (shh! don't tell anyone!). I promise I still paid attention, I just have a strange need to draw in my notes.
---
I'm currently in an 18th century mood. My next few projects (except an 1860s ballgown I'm making for someone else) are all 18th century. These include, a shot silk polonaise, a blue linen gown, a blue and white print jacket, a quilted petticoat, and a blue and yellow striped polonaise with a matching yellow petticoat.
---
A future project is reproducing my Edwardian dress, complete with the necessary underwear. I'm scaling up the Edwardian corset in Period Costume for Stage and Screen (already done!), using the Folkwear Edwardian Underthings pattern, and am going to try to take a pattern off the dress. Wish me luck on this! I'm using muslin to for the chemise, drawers, corset cover and petticoat and I'll use coutil for the corset and taffeta for the dress. I haven't decided what color to make the dress yet...
---
I plan on entering the 18th century soon. I have the JP Ryan stays pattern and jacket pattern. I'd like to make the jacket out of a reproduction block print from the White Fox Trading Co. and pair it with a quilted petticoat from Costume Close Up. I'll need to learn to quilt for that, but it looks fun :)
---
I enjoyed making the Picnic Dress so much that I decided to reproduce another of Padme's dresses. I looked through the pictures at the Padawan's guide and decided on the silver packing dress. It looked the easiest of her dresses, and I like it :) So far I've only bought the velvet for it.
---
I think the Regency is fast becoming my favorite era. I have a few plans for dresses and accessories. I'd like to make a chemisette from Janet Arnold's Patterns of Fashion for daywear, copy one of the dresses from Janet Arnold (scaling up a pattern! eek!) and embroider it (so I have to learn that), I'd like to make a few reticules and a new corset. And a petticoat that starts at the Regency waistline. And probably a few things that I'm forgetting. Oh yeah, make a dress with a neckline like the one in the new BBC History Magazine :)

Home :)