Projects I Actually Made!
Once I make something it doens't really belong on the upcoming page anymore, so I decided to make this page for my initial thoughts on a project...
---
My next project is from Lord of the Rings: The Two Towers. It's fairly straightforward, a chemise type underdress and sideless surcoat. I'm using the Rocking Horse Farm Sideless gowns pattern and making the surcoat in linen and the underdress in bubble gauze, which I'm dyeing to the correct shade. I hope :) I should start this fairly soon, I'm just waiting for the fabric and dye to arrive. Looks like fun. There's something quite appealing about movie costuming! In the meantime check out Alley Cat Scratch for all your LotR costuming needs! They host a great mailing list. I'm also a member of a new board, just 14 members now, devoted to LotR costuming. Come visit!
---
My next project will probably be Padme's picnic gown from Star Wars Episode II. A little different than my usual historic interests, but I just fell in love with it, and I need something to wear to the premiere of Episode III! I've already purchased 2 different fabrics for the corset. I found a fabric with embroidery similar to the one used in the movie (I have no plans to embroider it on my own! First I would need to learn how to embroider :) ) after I bought the first fabric. It doesn't have the texture of the original, but that doesn't bother me, since I'm not going for an exact copy. It will need to be dyed though. If that doesn't work, I'll use the fabric for a Regency dress and go with the first fabric I found. Or if the matching sheer that I ordered for the cape dyes well I'll use that and a plain corset. Obviously, I'm really speculating about the fabric, but one can never have too much fabric! Keeping the yellow is important though, since I do love yellow. I'll probably use silk chiffon for the skirt, and chemise type underdress, which I'll probably also line with a lightweight cotton so the corset will be comfortable. Again, I'll dye it myself. I plan to use the Laughing Moon Corset pattern, slightly altered of course, a straight Civil War style skirt, and I haven't decided about the chemise, but I'm thinking of trying something on my own since I have a good idea in my head of what I think it should look like. I'll decide after making a muslin or two though! I'm thinking that a mid thigh length chemise would be best, so there will be a layer of fabric between me and the corset and it will be long enough so you can pull it into position . I'll just tuck it into the skirt. Of course, everything is subject to change...
I'll also have a Making of page, similar to the one for my Regency Reproduction...
---
My next project will be a Civil War era day dress. This time I plan to get the things right that I got wrong last time :) It will have bishop sleeves, a gathered to fit bodice (which isn't at all full), be one piece and have a pleated skirt. I'm going to make another corset first, since working with coutil on the picnic dress and seeing how flimsy my twill and cotton corset was in comparison I decided I had to have a new corset. You'd think I actually had a place to wear these things :)
Anyway, here's a sample of the fabric.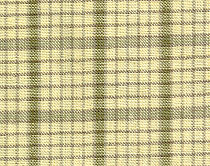 ---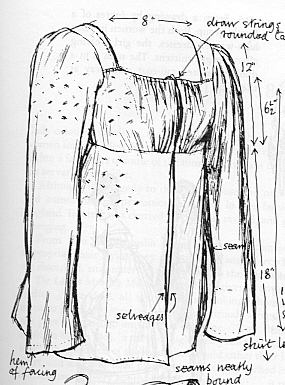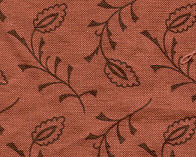 1799 Half Robe From Costume in Detail and my the fabric I'm using to reproduce it. The original was white cotton with a flower patten in mauve, green and black.
My current project is the 1799 Half Robe from Costume in Detail by Nancy Bradfield (which happens to be my favorite costume book). I'm sewing this completely by hand. I've decided that anything before 1860 I'll do by hand instead of machine, though I may fudge that date a little if I ever make an 1850s flounced skirt :)
I'm using an altered La Mode Bagatelle bodice, Sense and Sensibility sleeves and Period Costume for Stage and Screen skirt. This seems to be typical for my dresses, I used the same combination for my Regency ballgown. It makes sense, actually, since I have a properly sized LMB bodice (something I didn't know how to do when I got the Sense and Sensibility pattern!), Sense and Sensibility has great sleeves and the LMB sleeves are huge on me, and the Period Costume for Stage and Screen skirt is quite nice and I already have the pattern transfered to interfacing, so it works :)
---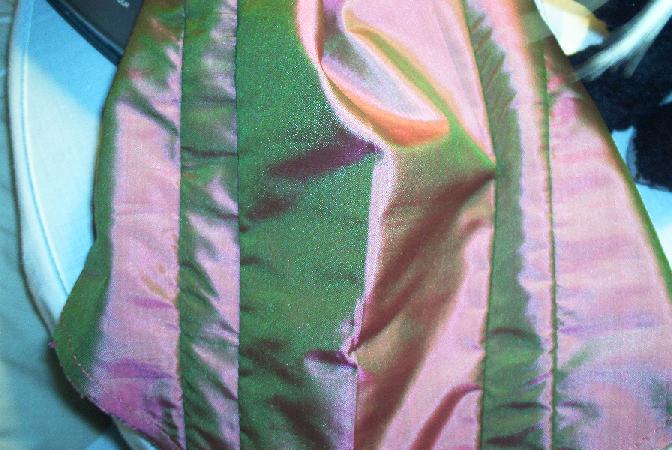 (My soon to be completed Civil War Ballgown, this was the first "page" about it)
So far, this is it. Doesn't look like much, does it? This is an upside down shot of a partially finished ballgown bodice. When finished, it should be quite pretty. It's made of pink/green shot silk. It will have the typical off the shoulder neckline, pointed waist, pleated skirt, with a cotton net tucker, and an informal bertha modeled after one in Jean Hunnisett's Period Costume for Stage and Screen. More to come as I do more! The project is currently on hold.

Home, por favor!