What I Used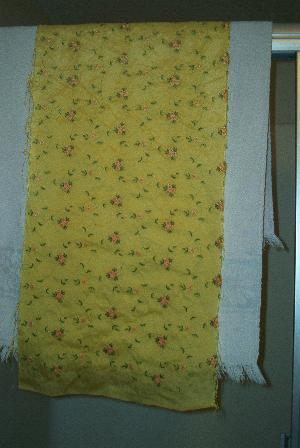 The newly dyed silk dupioni drying on the shower.
The Corset
1/2 Yard Silk Dupioni from Designer Fabrics Online
1 meter Semi-Stiff Coutil, steel bones and lacing from Farthingales
16mm key rings from Michael's
Cotton Sateen from Joann, etc
Left: The fabric for the corset (silk dupioni) and cape (silk organza). The top two are swatches that I dyed, the bottom two are undyed (obviously!) I was very worried about how the fabric would dye and am very pleased with the way it turned out. (Click for a bigger image)
Right: The lacing rings. Of course, several weeks after I finished the corset I found brass rings at Joann. They were in the second curtain section. Who knew they had two curtain supply sections? Of course, I looked at about 20 stores online/in town. Joann was of course the first place I looked. Sigh.
The Chemise and Skirt
One bolt of silk chiffon (13.2 yards) and 7 yards of cotton voile from the Dharma Trading Co.
The Cape
1 yard embroidered organza from Designer Fabrics Online
Dyes
Rit Dye in Yellow (corset)
Rit Dye in Golden Yellow (rest of dress)
Links can be found on the Links Page!

I'm ready to go home now!