Eowyn's Refugee Dress from The Two Towers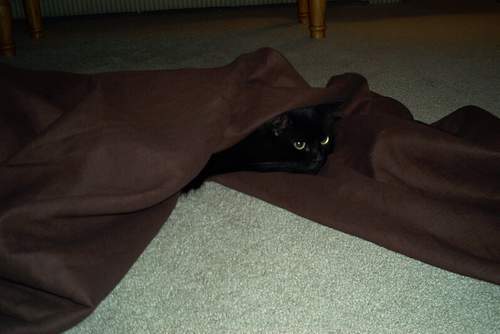 The required picture of Koshka helping with the linen.
I used the Rocking Horse Farm Sideless Gown pattern for my dress. This was, for me, a rather difficult pattern to work with. The small size did match my measurements, but I ended up cutting 6" out of the neckline of the surcoat, 6" out of the armscyes of the underdress (they reached my waist), 6" out of the sleeve width, about 3" of sleeve length, 1' of underdress length and 2' of surcoat length. Fortunately, the pattern isn't fitted so these were rather easy adjustments.
Other adjustments I made to the pattern included changing the necklines, redrawing the side scoop so it hit at hip level instead of waist level, redrawing the width of the side scoop since, as is, it was too narrow in the front, removing the darts from the underdress, binding the necklines with bias tape instead of the lining and facing recommended. These were all changes to bring the dress closer to the movie version.
Remember, patterns are just recommendations.
I used 5.4 oz deep mahogany linen from Fabrics-Store.com and cotton bubble gauze from Dharma Trading. I dyed the bubble gauze with Dharma's sky blue dye. It came out a little darker than I would have liked, but the blue was so nice with the brown that I didn't mind. I used gold cording from Joann around the neckline and to lace the surcoat. The sleeve lacing is crocheted cotton, also dyed sky blue.