The Background
The Patterns
I used the La Mode Bagatelle pattern with a few changes for the bodice. The changes are as follows:
I squared the neckline

I took about 2 extra inches off the center front (beyond the 2" that I needed for initial fitting!)

I made it into a 2 piece back instead of a one piece back

I cut the shoulder piece separately

I adjusted it to close with drawstrings in the back

I only flatlined the bodice, to match the original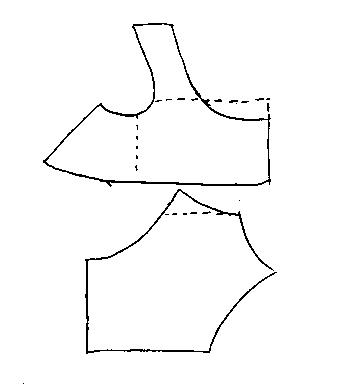 The solid lines are the lines the original pattern follows. The dotted lines are the alterations I made.
I'm using the Sense and Sensibility Regency Gown pattern for the sleeves. I've finished the first sleeve and it came out exactly how I wanted it!
I'm planning on using Skirt E from Pattern Sheet 5 from Jean Hunnisett's Period Costume for Stage and Screen. I was originally going to use the LMB shaped skirt pattern, with a few alterations, but bought my trim based on the 100" skirt circumference listed in the instruction book. I measured the pattern and found that the circumference was at least 40" greater than that. I may have measured wrong, but I'm not taking any chances and am using the narrower Hunnisett skirt. I really don't want my skirt big enough to fit comfortably over my Civil War era hoop anyway :)
The Materials
Silk Gauze

Cotton Sateen for the lining

Silk Ribbon

Rayon Cording

Rit Dye in Evening Blue

Cotton and Rayon Thread

Twill Tape

Fray Check
I purchased everything but the lining fabric, thread and Fray Check online. I dyed everything in the sink and was very happy with the way it turned out!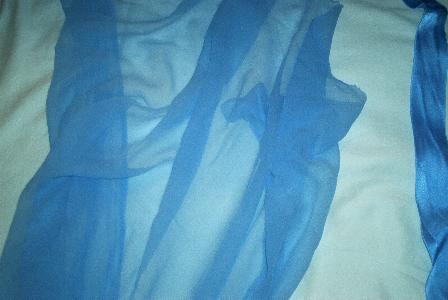 The Gauze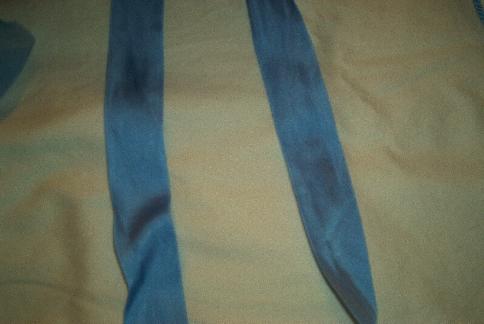 The Ribbon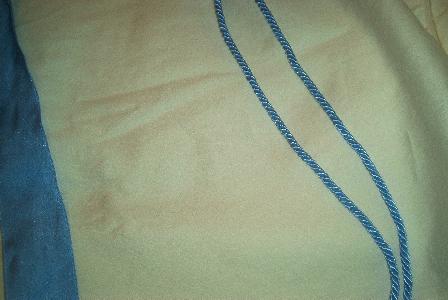 The Cording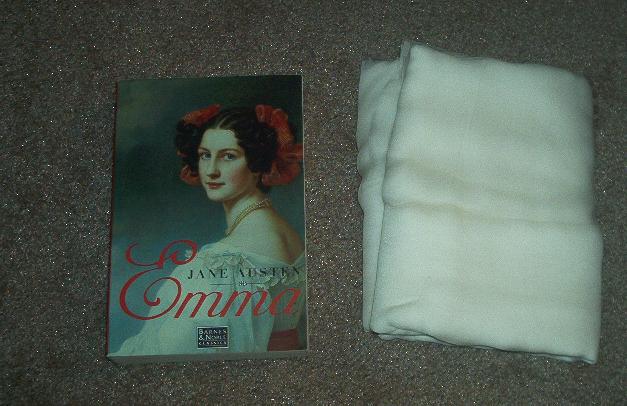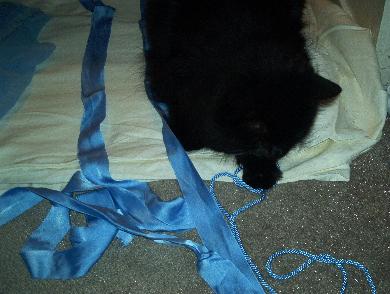 The 6 yards of gauze before it was dyed! Koshka getting in on the fun!!!
In case you're interested, the gauze came from Dharma Trading Co., the ribbon from Farmhouse Fabrics and the cord from Ginsco Trims. The thread, twill tape and lining are from Jo-Ann, etc and the dye is from Target :)
I recently purchased more silk ribbon to use around the hem. It's currently waiting to be dyed. I'm also planning on using from china silk from Victoria Louise, Mercers to make a sash.
Miscellaneous
I've tried to be as authentic as possible in the making of the bodice. Everything is sewn by hand. I've tried to copy the original as closely as possible. Some of my materials are synthetic, but I was happy enough to find rayon cording so I could dye it! I'm using rayon thread since I was unable to find silk thread locally. My twill tape is poly as well. The use of the Fray Check is necessary to prevent the cording and ribbon from unraveling. So, even though I'm not 100% accurate, I think I've made a fairly good effort!

Can we go home now?