An 1863 Day Dress
Some Details...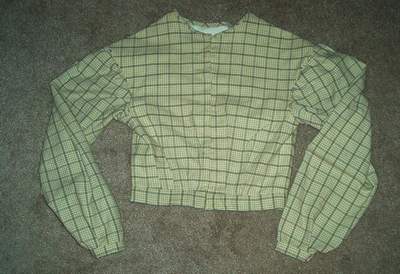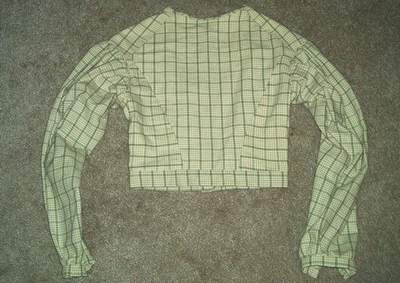 The bodice laid out flat. The only thing left to do is add the collar. And the skirt of course...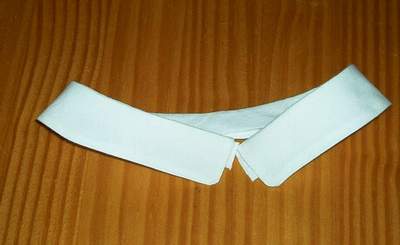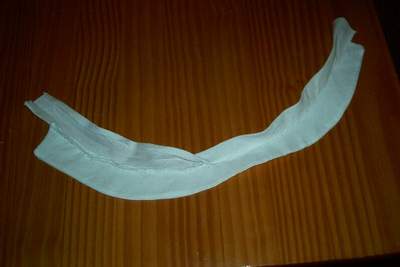 The collar. Finished on the left, a detail of the bias band being sewn in on the right. I used the instructions from The Dressmaker's Guide to Fit and Fashion by Elizabeth Stewart Clark.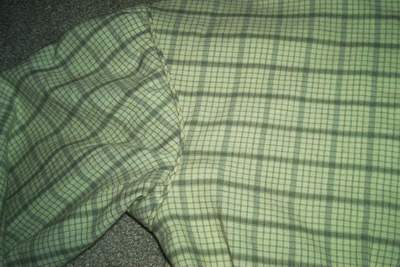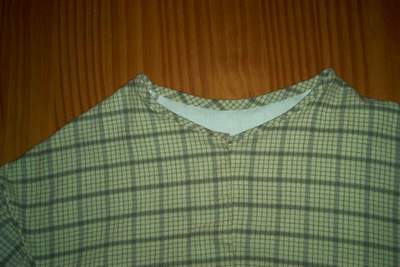 One the left, the armscye piping. My first attempt at piping and I'm quite happy with the way it turned out. I bound the neck (right) with a bias strip. Normally the neckline would be piped as well, but the bias binding is an acceptable alternative and I wear the dress with a collar anyway.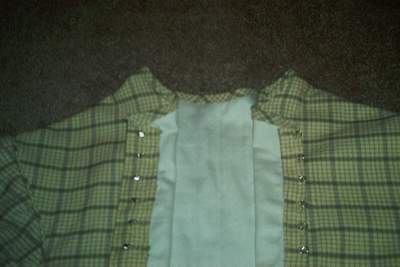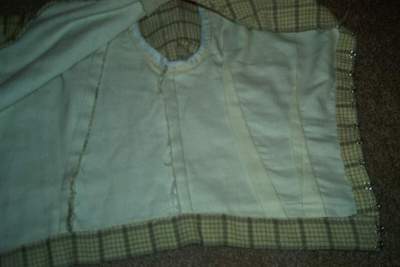 The picture on the left shows the placement of the hooks and eyes. This was my first time they actually worked for me! On previous attempts I had put the eyes on the right side of the fabric, instead of on the inside. I also used an awl to poke a hole in the fabric for the hooks to go through, so they lie very flat. The picture on the right shows the lining. I once again used cotton sateen leftover from my Regency ballgown. The lining and fabric are treated as one for the closure. I felt this would be easier to do than to treat them separately as was most common. Since my sources said that "most" gathered bodices had the closures treated separately I figured that some were done this way as well. I understand why separate closures for the lining and outer fabric were done now, the darted bodice is tighter and tends to pull on the looser gathered fabric. Fortuntately Creative Top Stitching solved the pulling problem :)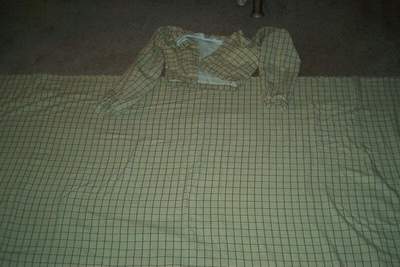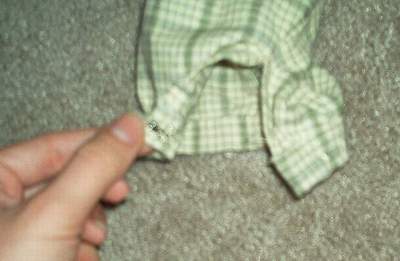 Left: A slightly daunting task. The bodice lined up with the skirt. I had intended on pleating the skirt, but my attempts failed and while pulling out stitches I put a nice 5" rip in the top of the skirt. I patched up this tear and gauged the skirt. The skirt is so full that it hides the tear :)
Right: A slightly blurry picture of the cuff. I drafted the Bishop sleeve using the directions in The Dressmaker's Guide to Fit and Fashion. The cuff closes with a hook and thread eye. I had a little trouble drafting the curve at the top of the seam. My armscye was 16", but that was too long for the width of the sleeve. So, I adjusted the base pattern sleeve curve to 14" and it worked perfectly. Bizarre. But, since it worked I'm not complaining...