An 1860s Bodice
Click for a larger image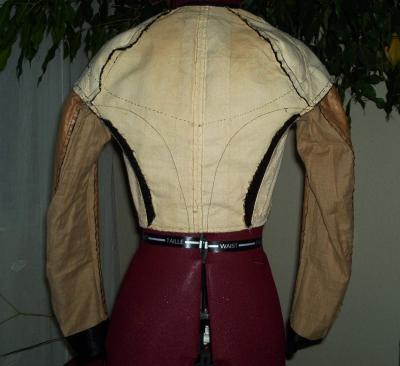 A straightforward view of the back, showing the false seams for the 3 piece back, the angled back seams and the seam from the velvet ribbon. The lining has been pieced. The center back seam is not present in the silk. There are also seams from piecing above the shoulders.
Left: A close up of the side seam
Right: The front from the inside.
.
Left: The tucks from the inside.
Right: The hooks. A tape is sewn over them to keep them flat.
Left: The sleeve seam. You can see the pieced lining seam towards the back, to the left of the shoulder seam. The lining shows signs of previous stitching near the collar.
Right: A close up of the hooks and the tape covering them
Details of the waistband. On the left you can see holes from previous stitching, perhaps where the skirt was attached. On the right there's a small flap of black silk. This would have been over the left hip and possibly part of a waistband for a dogleg closure.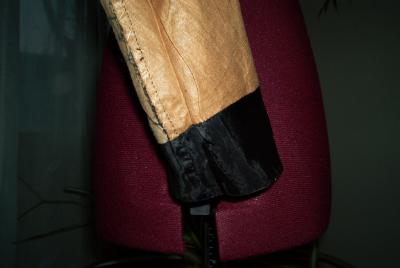 The black silk facing on the cuff.

Home now!